How to choose a software development company for startup
This article describes how to choose a software development company for startup and overviews the main benefits that outsourcing brings.
back to blog
Jul 23 2020
| by
Victor Shulga
The biggest misconception about hiring an outsourcing company is probably the one that states that outsourcing is for big companies only. Many startup owners believe that outsourcing is too expensive, is suitable for big and long-term projects only, and that will lead to the complete loss of control in terms of project management.
But the truth is completely opposite: outsourcing actually helps startups grow and optimize their processes, leading to a successful establishment of a startup company on the market. So how exactly does an outsourcing company help and how do you choose the one that will perfectly suit you? Let's have a look.
The ultimate benefits of outsourcing for startups
Below we will list the biggest benefits that outsourcing brings to startups and will explain the ways outsourcing helps startups grow and mature.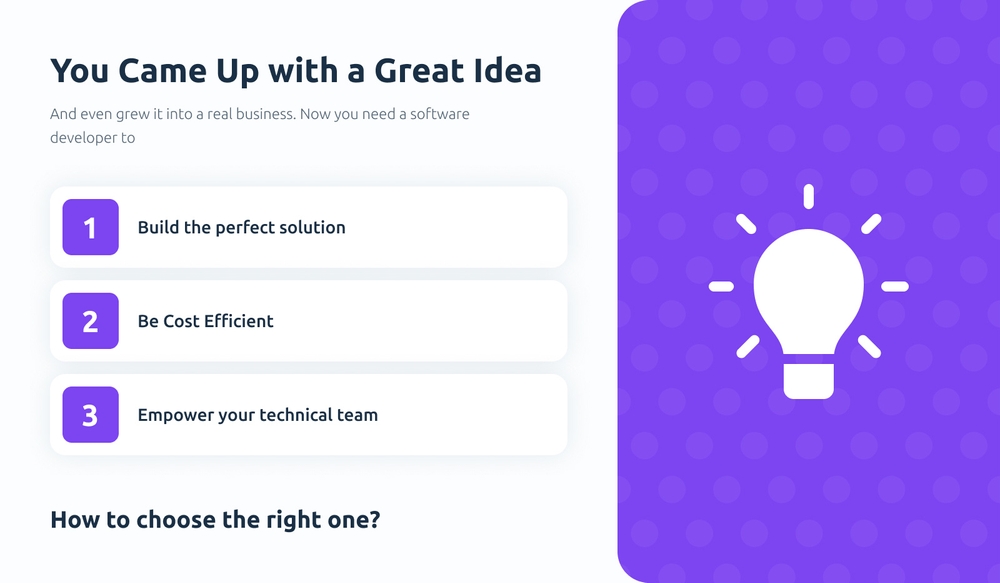 Cost cutting
Even though startup owners believe that outsourcing will seriously impact the company's budget, the situation is quite the opposite. In fact, outsourcing helps optimize the budget and lower the costs.
Outsourcing provides the option to hire specific professionals with needed experience. Instead of hiring the in-house specialists and spending time and money on their training, you can just pay once for the job to be done - and the quality will be excellent. As well, with the in-house development team, you will have to pay for a vacation, sick leaves, equipment, and all other costs associated with full-time employment. Outsourcing, on the other hand, requires you to pay for the software development services only without any additional costs.
And don't forget that the rates of outsourcing developers are often much lower than the rates of your local specialists. This is another way how you can lower your operational costs without sacrificing the product quality.
Focus on critical things
Startup owners have to take care of dozens of tasks: software development and maintenance, security, PR and marketing, sales, and so on. Partnership with an outsourcing company will free you from some of these tasks and will allow you to focus on things that really matter.
Instead of worrying about the project phases and their quality, you will delegate the development responsibilities to an outsourced development team. In this way, your only task will be project monitoring while you will be able to focus on further growth and development strategy. Such allocation of tasks will help your startup grow in a faster and more efficient manner since you won't get distracted by minor (yet important) issues.
Efficient scaling
For startups, scaling is often associated with certain risks. You can never know if hiring new employees will benefit your business or will result in financial losses or whether an investment in new technology will pay off.
Outsourcing eliminates these risks by providing a chance not only to scale but also to see whether you really need this new technology or the introduction of a new role in your team. By paying for a service once, you will be able to estimate its value, see whether collaboration with a third-party company is more beneficial than in-house development, and how you should scale next. And in case something goes wrong, you can always stop the partnership and look for a more suitable option.
High quality of services
In order to provide great services and high quality of software products, outsourcing companies usually focus on specific technologies or areas, like mobile app building or development of Java applications. In this way, companies make sure that their employees constantly master their skills and become true professionals in their field.
Now imagine how much time it would take for an inexperienced in-house specialist to gain skills and knowledge needed for a specific project. Thus, it becomes much more beneficial to outsource a professional to take care of your project and who will be able to deliver superior quality.
Choosing a software development company for startup: things to consider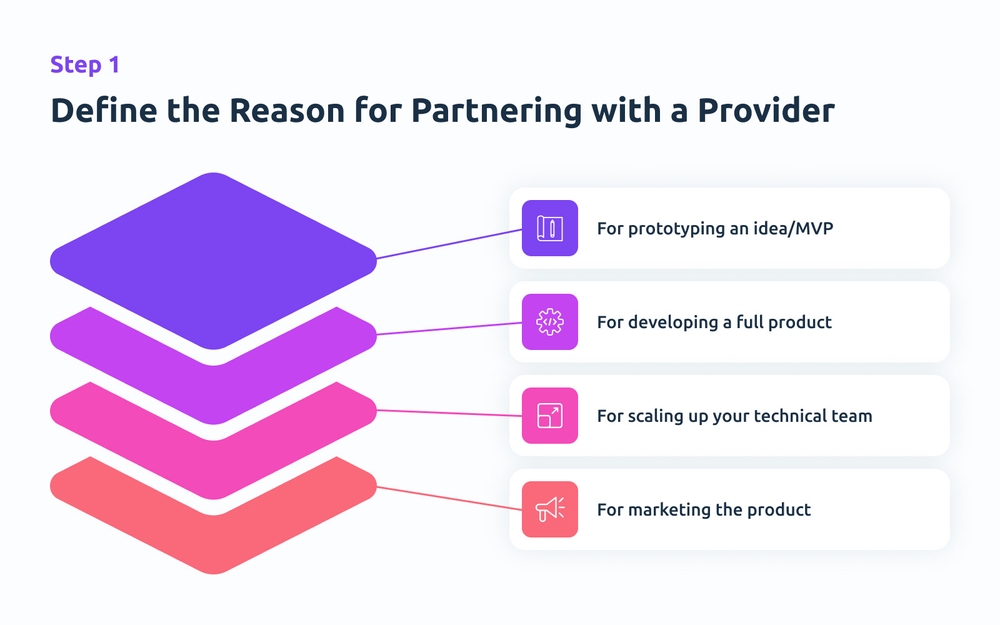 We've covered the main benefits that outsourcing brings to startups. Now it's time to discuss how to choose a software development company for startup and what are the main considerations to keep in mind.
Know what you need
Before you start research and begin looking at the top outsourcing companies, you need to specify your goals, requirements towards the project, its desired look, and functionality as well as its target audience. The understanding of the target audience is especially important as it will help you decide which platform (or platforms) your product will run on, what kind of functionality this user group might expect, etc.
This preparation is needed in order to approach a company with a clear plan of action. By preparing the project overview and the requirements list, you will enable the outsourcing company to come up with the most suitable solution that will satisfy you in terms of financial and resource spendings as well.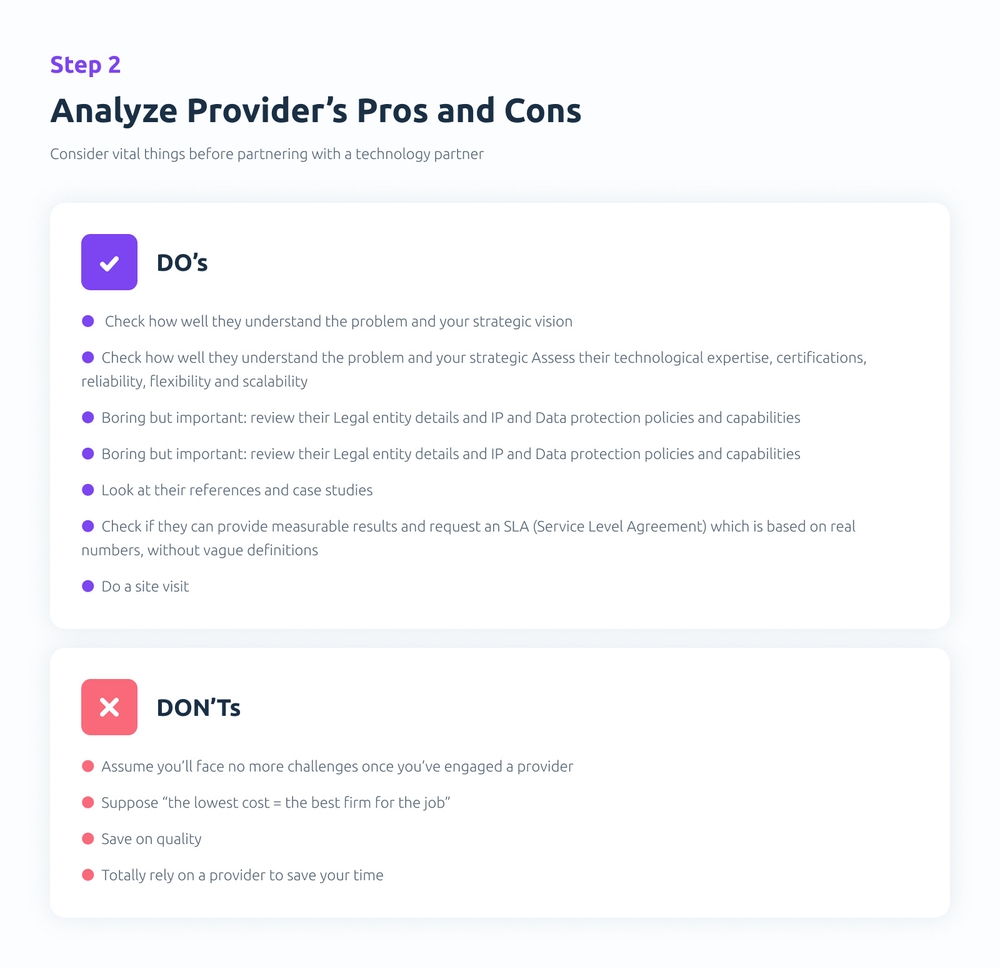 It is also recommended to analyze the market and the existing competitors in order to identify the users' needs, what kind of solutions the competitors already offer, and what can be improved. In this way, it will become easier to come up with innovative features that will ensure the profitability of your product and a high level of engagement from the users.
Specify the requirements towards a development company
Once you have a ready list of the requirements for a software project, you can use it is a base to craft a list of requirements towards a development company.
You should ask the following questions:
What technologies are needed for this project?
What platform will I choose for it?
Do I have any specific requirements for the design?
Are there any similar products that I can compare my product do?
What is my budget?
Once you answer these questions, you will significantly narrow down the search criteria and will be able to find a company that precisely (or almost precisely) fits the requirements.
Know the places where to find a good software provider
Rule number one: do not hesitate to explore international companies and go outside your local market. The thing is, many European companies (and Eastern European ones especially) have significantly lower rates than American development companies, for example. At the same time, European developers are known for their high level of professionalism and skills so you basically receive excellent quality at a reasonable price.
Try looking for companies at such websites as:
Clutch
Upwork
Goodfirms
Appfutura
Quora (forums might be useful as well)
They have lists of IT providers with corresponding ranking and reviews from the clients so you can check whether a company suits you.
An important thing to do when finding a company is checking its portfolio. By looking at it, you will be able to determine whether this company worked with similar projects before and whether its expertise allows to handle your project. As well, do not hesitate to contact the past clients of the company or ask for their references. This will help you learn about the quality of work and whether there are any issues to know about.
Organization of processes and communication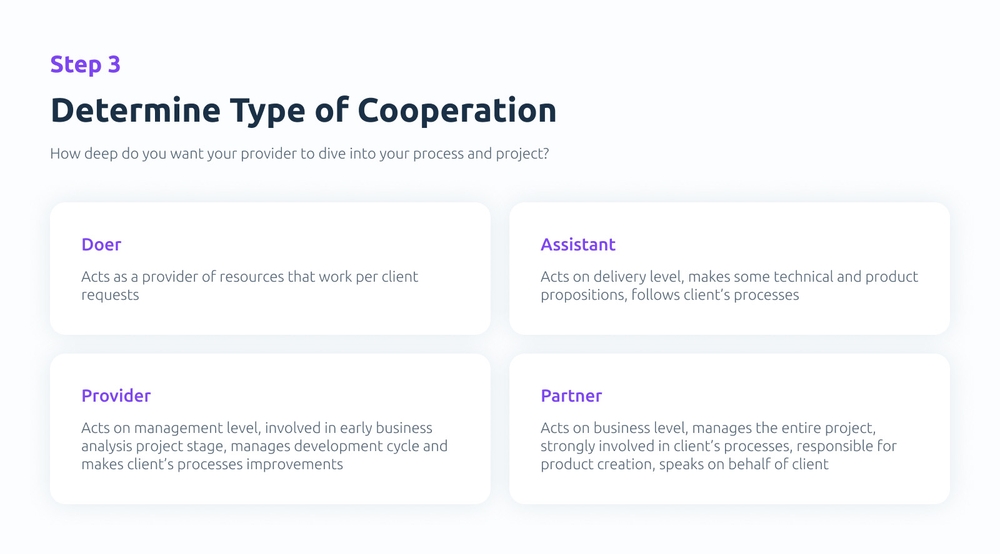 In order to ensure that you will successfully work with an outsourcing company, you need to evaluate two things: the way it organizes the development process and its communication style.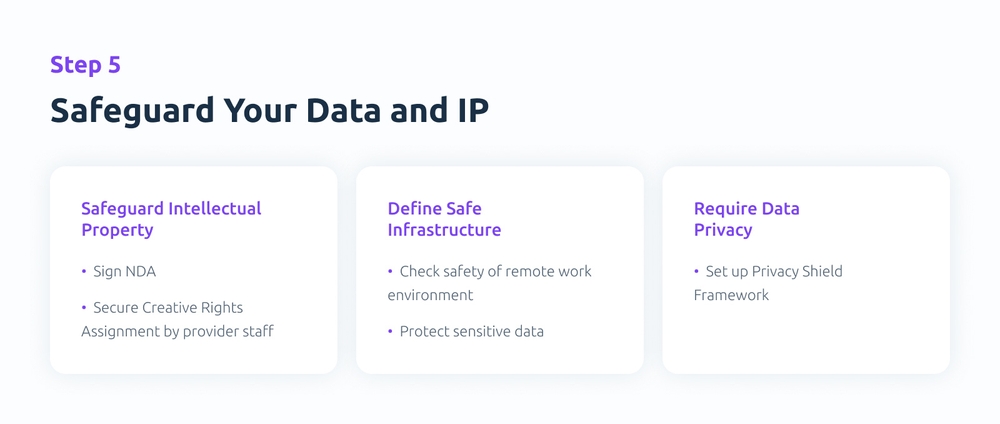 Today most development companies work by Agile methodology. It allows great flexibility and helps to allocate budget and resources in a comfortable and flexible manner. However, depending on the project, it might be better to work by the waterfall methodology so you need to clarify it. Also, do not forget about the payment model - will it be fixed price or Time & Material?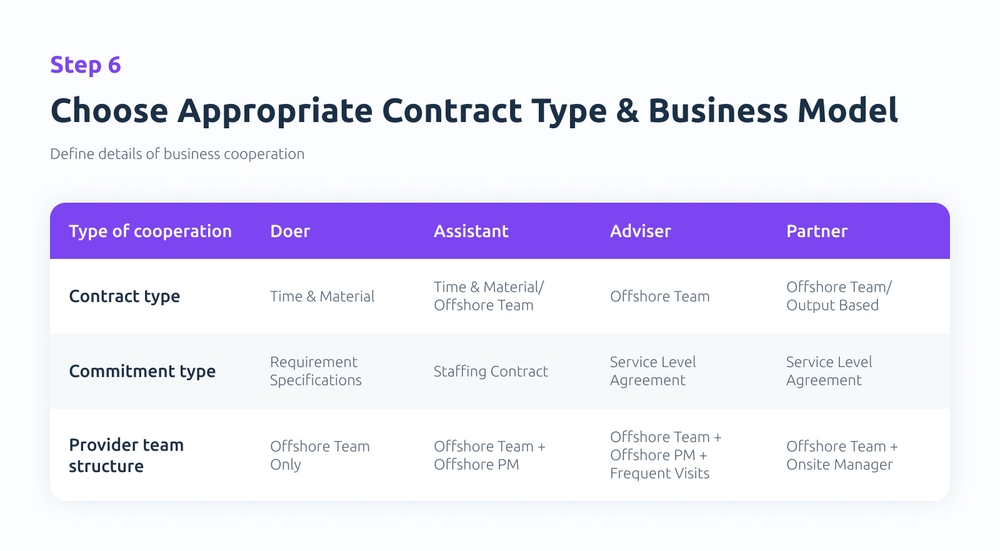 Another critical issue to discuss is communication. This is one of the biggest issues of working with an outsourcing company, especially with the one located in another country. To ensure that all the team members stay on track and are aware of the project status and due tasks, do the following:
Define sprints for the team
Establish clear project deadlines
Negotiate on the preferred communication methods (Skype, Slack, etc.)
Establish regular meetings and reporting
Set up obligatory hours for the employees to be available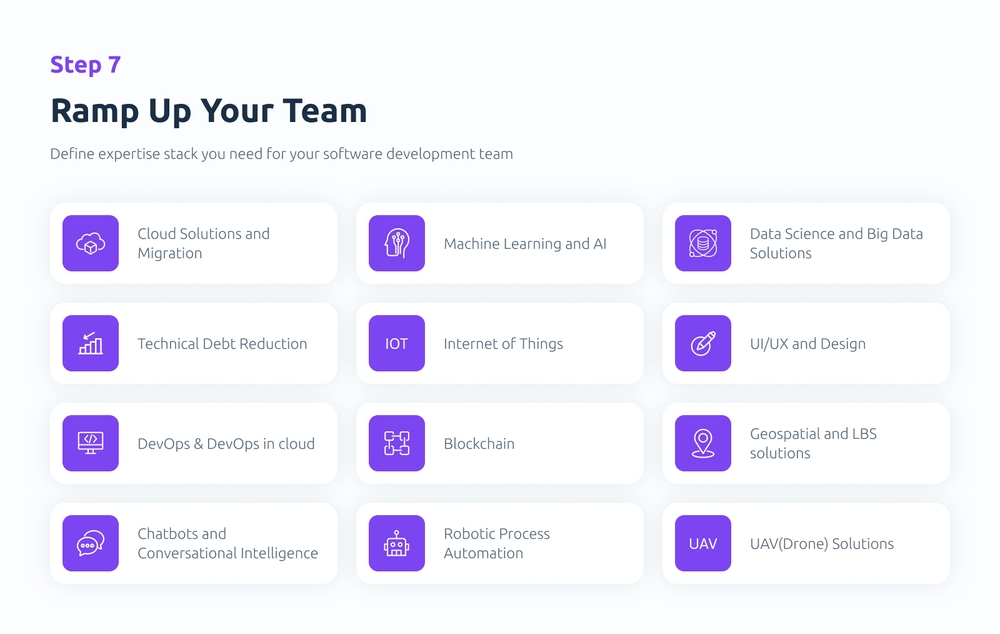 These practices will help to better monitor the project and keep you aware of its phases and progress. Transparent communication defines the project's success so do not underestimate it.
Questions to ask
Below is a brief checklist of questions that you can ask when talking to a manager of a chosen company. These questions will help you get a better understanding of whether this company suits you and whether you will feel comfortable working with it:
Describe the way you approach the development process?
Tell me what makes your company different from the others?
How do you ensure the quality of your products?
What collaboration tools will we use for this project?
What is the process of creating and working on tech documentation?
What is your experience in creating products similar to mine?
One more thing that might be helpful: try choosing an outsourcing company that is similar to your startup in terms of size. A one-stop outsourcing company with over 100-150 people in the team might be more suitable for huge enterprises. Small or medium-sized development agencies, on the other hand, might be much more suitable for startups as they usually work with one or two clients in a close manner and thus pay lots of attention to their projects.
Summing up
To wrap things up, we will conclude with the following: do not hesitate to reach out to an outsourcing development company if your startup needs a high-quality software solution. Not only will this decision help you grow but will also eliminate a number of issues that you might otherwise face.
There are lots of factors that impact decisions to hire an outsourcing agency. Judging by our experience, the level of comfort during communication is one of the key governing factors when choosing an outsourcing company. At DashBouquet, we are always 100% honest with our clients and we treat every client as part of the team. This helps us establish reliable and long-term relationships that make the clients come back in case they need a new product or upgrade of an existing one.
Average: 0 / 5 (0 votes)