AI Startups to Watch for in 2019
For modern companies, it is now sort of a challenge to come up with a solution that would be revolutionary enough to get noticed and valuable enough to get funded. Thus there are thousands of AI startups worldwide. We listed below 5 that draw attention this year.
Home

>

blog

>

ai startups to watch for in 2019
AI Startups to Watch for in 2019
:)

You have successfully subscribed! Thank you for subscribing to our newsletter!
! Email has already been taken
back to blog
Mar 26 2019
| by
Natalia Kukushkina
We already covered the topic of Artificial Intelligence 'AI Trends for 2019: What Should we Expect?') in our blog and spoke about the hype that surrounds this technology. We firmly believe that every tech company should implement AI into their processes and services to reach the new height of quality and offer better customer experience.
Below we are giving the most aspiring AI-startups to watch for this year – maybe some of them will inspire you?

Funding: $574 million
Category: Bioinformatics
No wonder this startup raised huge funding and drew attention to itself – it promises to deliver a significant impact on the global economy and to be more specific, engineering biology.
Joshua Hoffman, the co-founder of Zymergen, identified a problem with the area of the genome. The thing is, humans just don't have enough capabilities to explore the genome areas that contain the phenotype that scientists care about. So what Zymergen does is it uses the advances of ML to run the experiments that scientists don't even think of – and successfully reveal valuable information from every strain.
So what does such laborious work has to do with the global economy and what's engineering biology anyway?
As Wikipedia describes it, " Engineering biology is the set of methods for designing, building, and testing engineered biological systems which have been used to manipulate information, construct materials, process chemicals, produce energy, provide food, and help maintain or enhance human health and environment". With the capability of more accurate and informative cell study, Zymergen, without a doubt, can bring immense benefits to the industries worldwide.

Funding: $550 million
Category: Robotics
We've talked about the importance of bots numerous times. Implementation of robotic assistants significantly speeds up the work processes, frees employees from mundane tasks, and delivers excellent and error-free results.
Automation Anywhere focuses on developing RPA (robotic process automation) software to help enterprises cope with their business processes faster and better. The company not only provides bots for process automation but also analytics tool for performance measurement and management.
It's interesting that UiPath is another RPA startup that received a $448 million funding and is considered the biggest competitor of Automation Anywhere.

Funding: $350 million
Category: Medical Device
This healthcare startup aims to make medical imaging accessible to everyone. The product consists of two parts: the screening device itself and the mobile app that shows the results and lets the specialist manipulate the process.
Butterfly Network product claims to be the first ever ultrasound device that is pocket size and allows whole-body screening. The platform is 100% HIPAA-compliant and the device can work either a full shift or 2 hours of non-stop screening.
The startup is a great example of an AI being used to promote accessible medical service worldwide with fewer costs than traditional screening device.
**C3 **

Funding: $243 million
Category: Predictive Analytics
C3 is an enterprise-AI company that offers a range of solutions for businesses:
Fraud detection: helps identify any fraudulent activity.
Inventory optimization: helps manage inventory levels.
Energy management: helps prioritize tasks and activities and efficiently distribute them, thus decreasing the costs.
Anti-money laundering: the power of AI helps identify suspicious cases and decrease the risk of money laundering.
Sensor health: is used to predict the sensor's failure and identify any issues to timely prevent them.
The company aims to reinforce the enterprise's processes with the power of AI and bring performance to the next level.

Funding: $214 million
Category: Autonomous Vehicles
We are well aware of smart homes and smart gadgets, powered by AI. The Chinese startup Pony.ai aims to create an ultimate autonomous and AI-driven smart vehicle.
The company strives to create the safest and most reliable technology in the sphere of autonomous vehicles. For that, Pony.ai uses advanced research in AI technology and carefully evaluates any change applied to the system.
The issue of autonomous vehicles is a double-edged sword. On one hand, the autonomous cars are what the future seems like, especially in terms of smart city perspective. On the other, people are still aware of this innovation so Pony.ai has quite a challenge to resolve and prove that they are capable of building a trustworthy product.
Summing up
These startups are just a few examples of a much bigger picture, where hundreds and thousands of the companies are trying to make our world faster, more efficient and digital.
For modern companies, it is now sort of a challenge to come up with a solution that would be revolutionary enough to get noticed and valuable enough to get funded.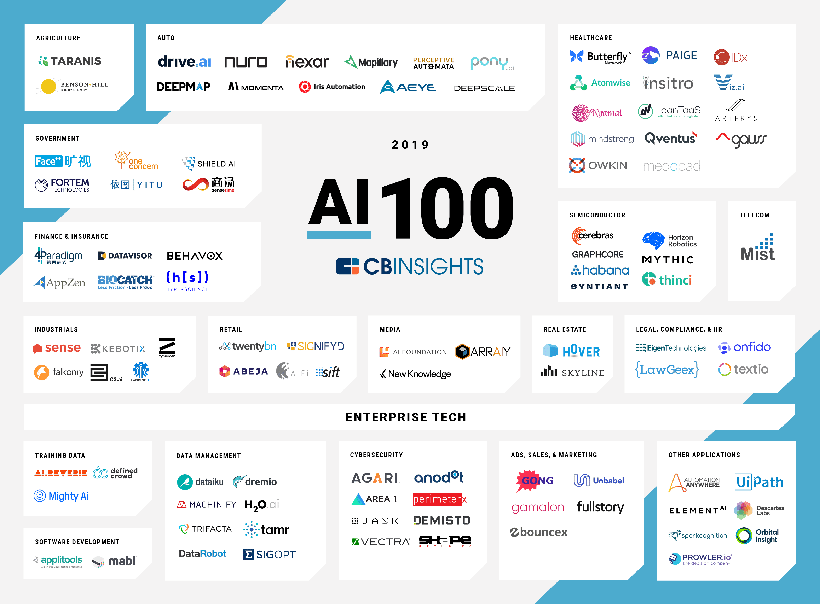 Average: 0 / 5 (0 votes)